Video Response question types allow for the inclusion of subjective learning and feedback in a Qstream; learners are prompted to record their response in a video clip, which is then sent to their direct manager for review and feedback.
Participant Experience
The learner is prompted with a distinctly marked question to record in a video in response to a question prompt: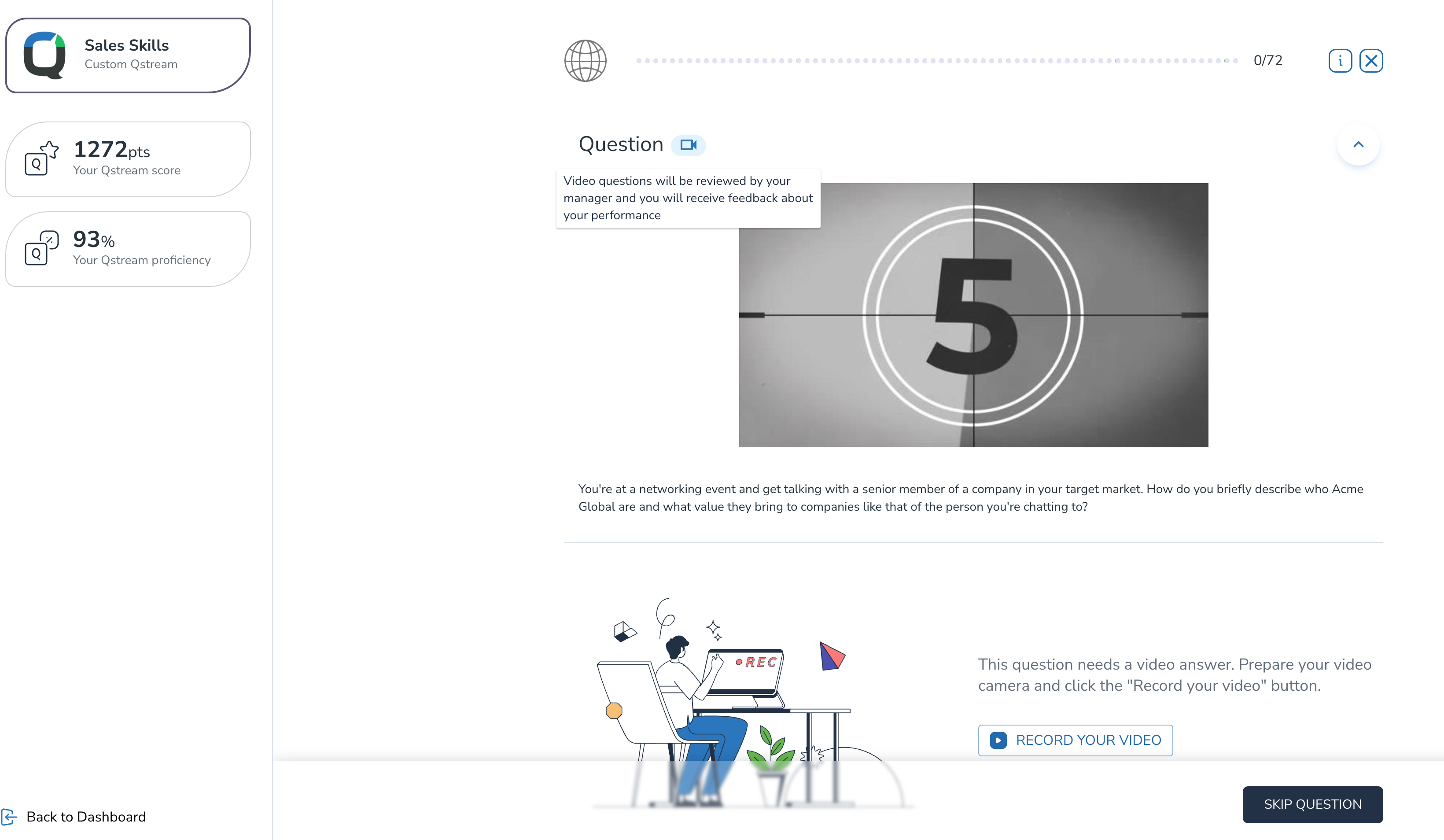 Responses can be recorded on any device - mobile, tablet or desktop.



Participants can skip a video question if they are not in a good place to record something when receiving it - they can go on and answer any additional questions in their queue, and come back to the video response via the carousel at any time.



Participants must have both a microphone and a camera in order to record a video response.
The participant will be prompted to grant microphone camera permissions, then to start their recording: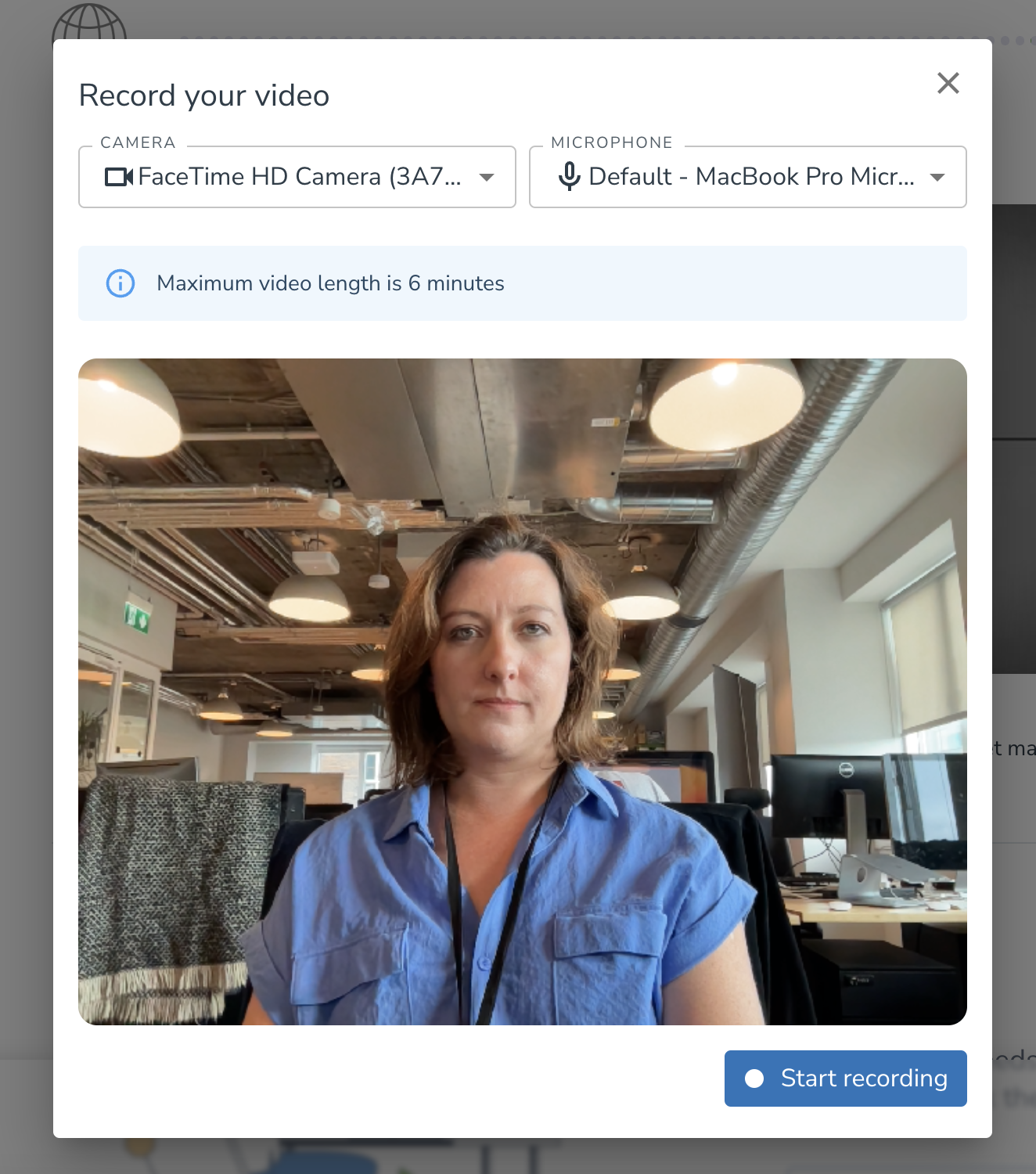 Video responses have a maximum length of 6 minutes.
The Participant can playback their own recording, and either submit it or choose to re-record it.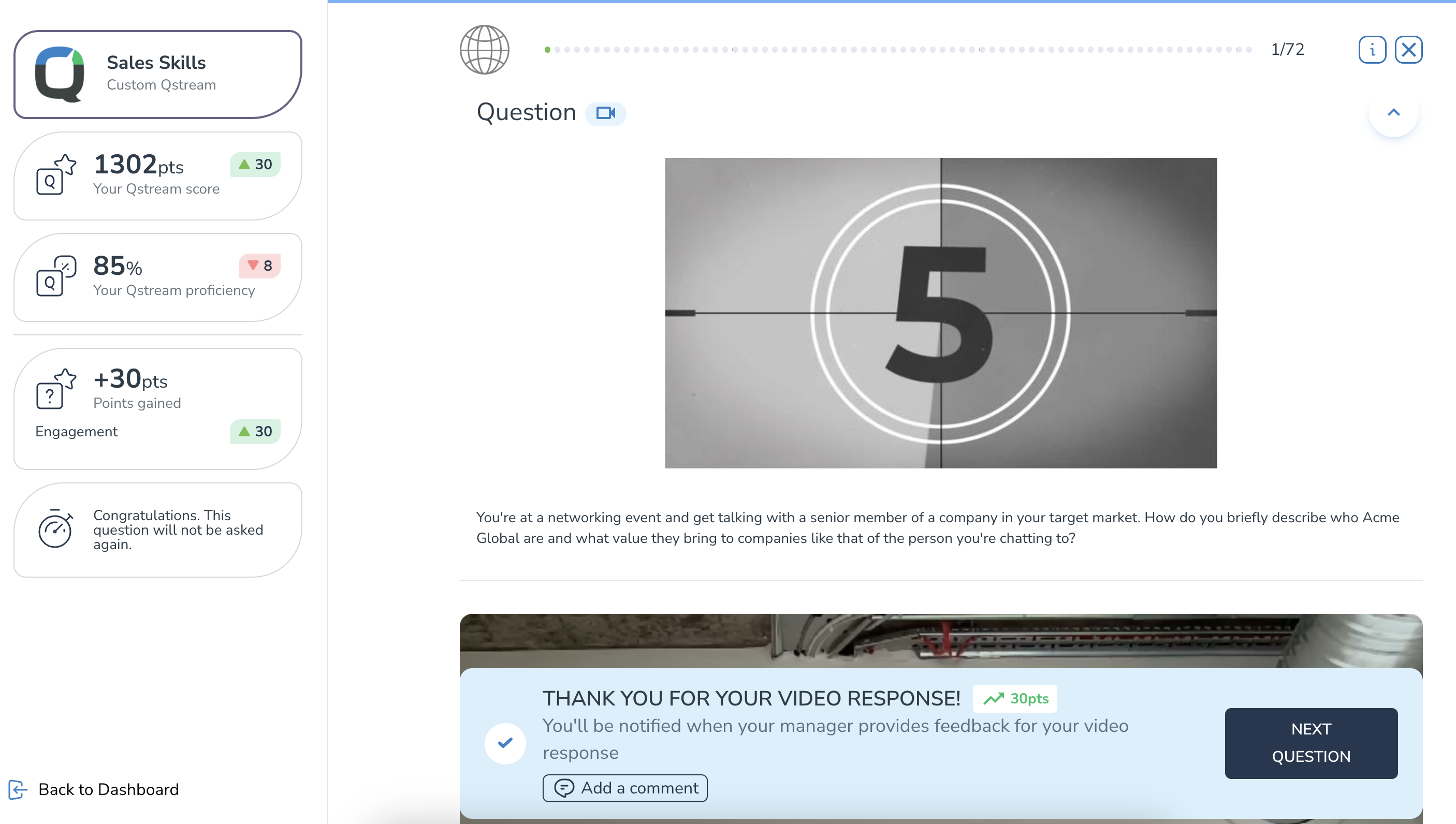 Any non-submitted attempts are discarded

Engagement points are awarded, but no proficiency points

The question will not be repeated, regardless of Qstream spacing settings

Participants are informed of what to expect next - that their manager will review their video response

Participants can re-watch their video on this screen too - but it has already been submitted for review.

Participants can leave a comment if desired as with any other question.

Authors can include an explanation for video response questions if desired, but this is not mandatory.
When their manager has provided a review and feedback, the participant is sent a notification to let them know: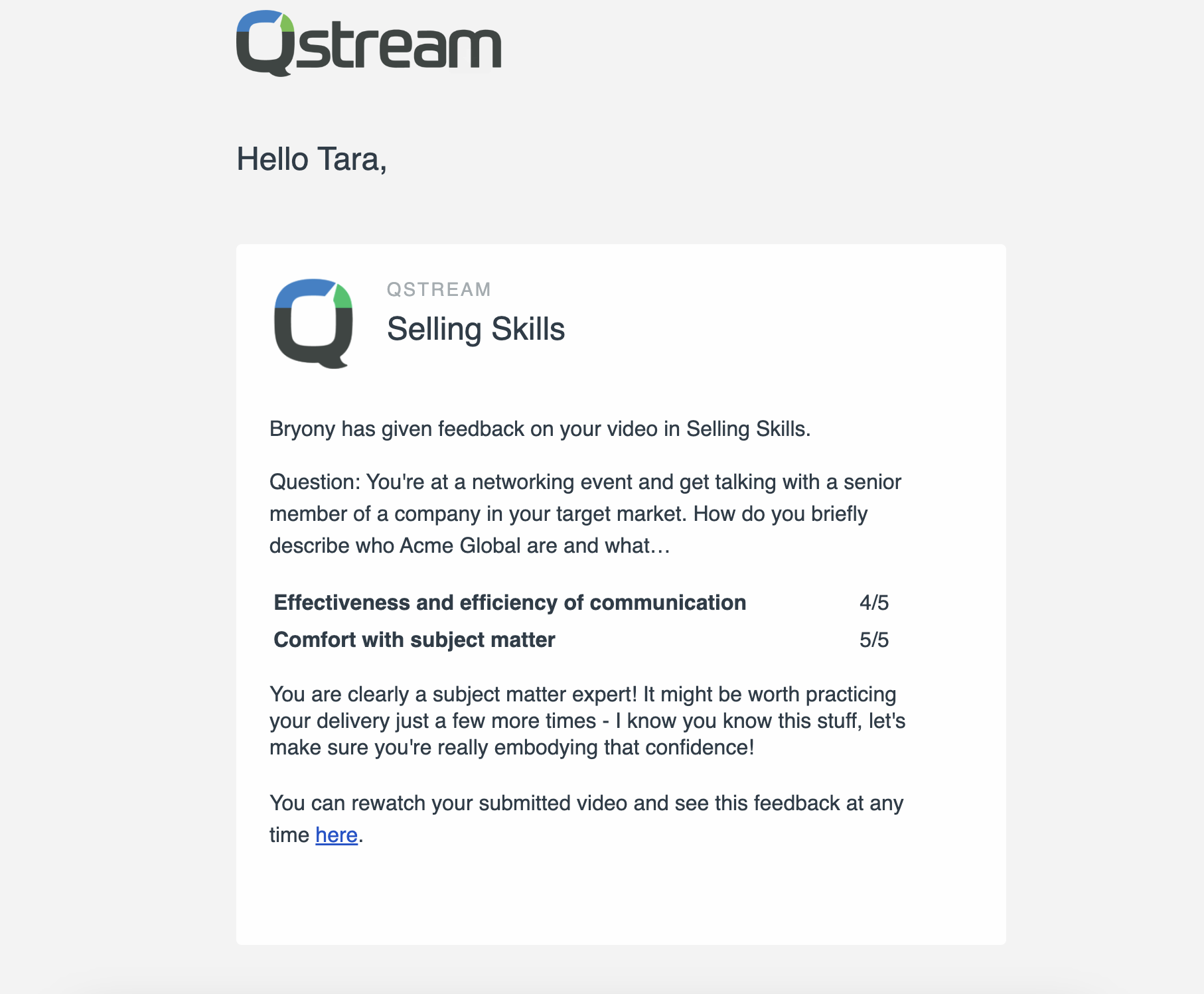 FLM Experience
When a direct report submits a video for review, their manager will receive an email notification: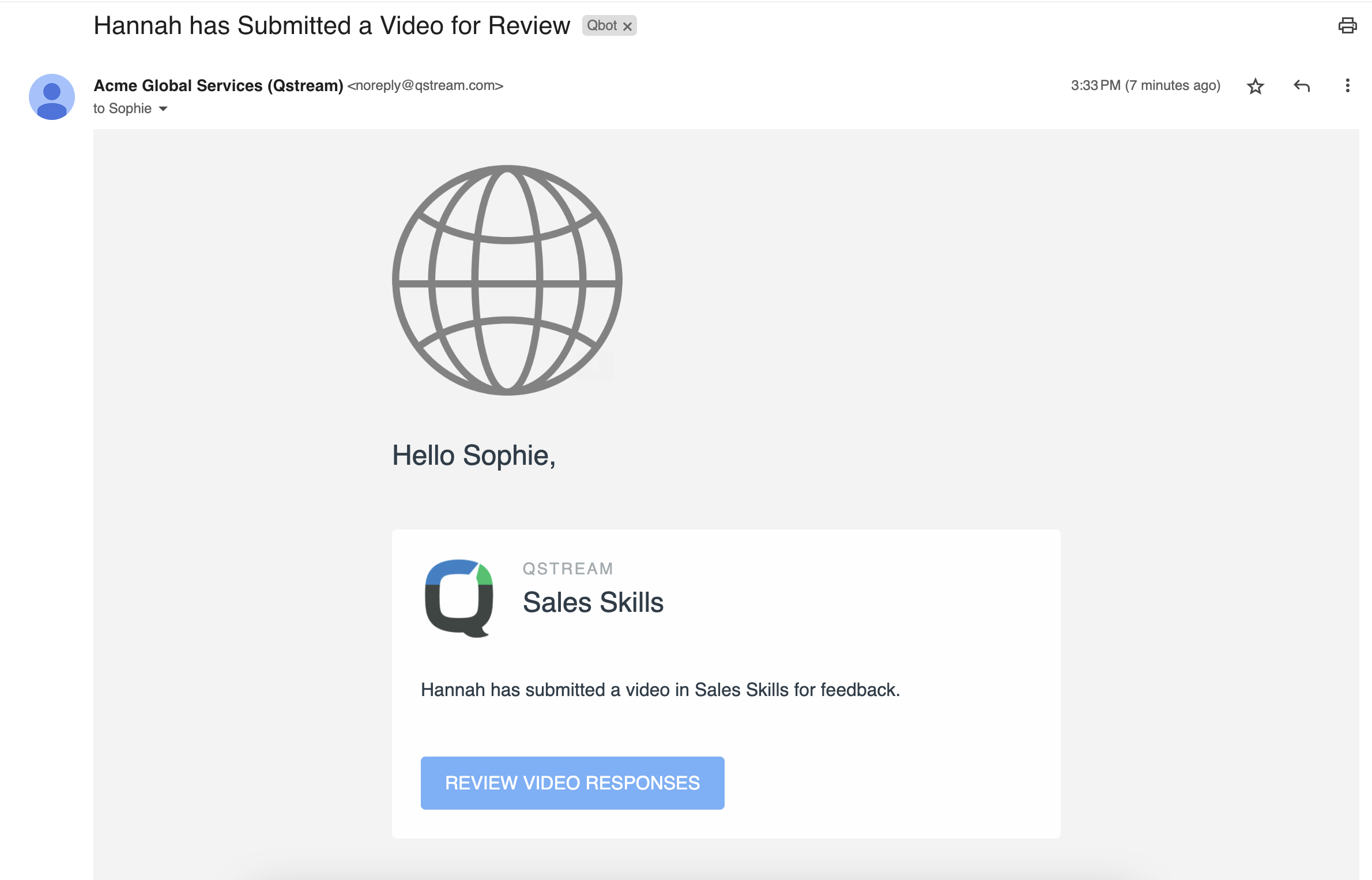 The link in the email takes them directly to that video to provide a review and feedback:
Videos are accompanied by an auto-generated transcript, to simplify manager engagement.

Where there are 2 ratings, managers must complete both of them to submit their review

Text feedback is optional

Once a video review and feedback has been submitted, it cannot be edited (the participant has already been sent an email with this feedback).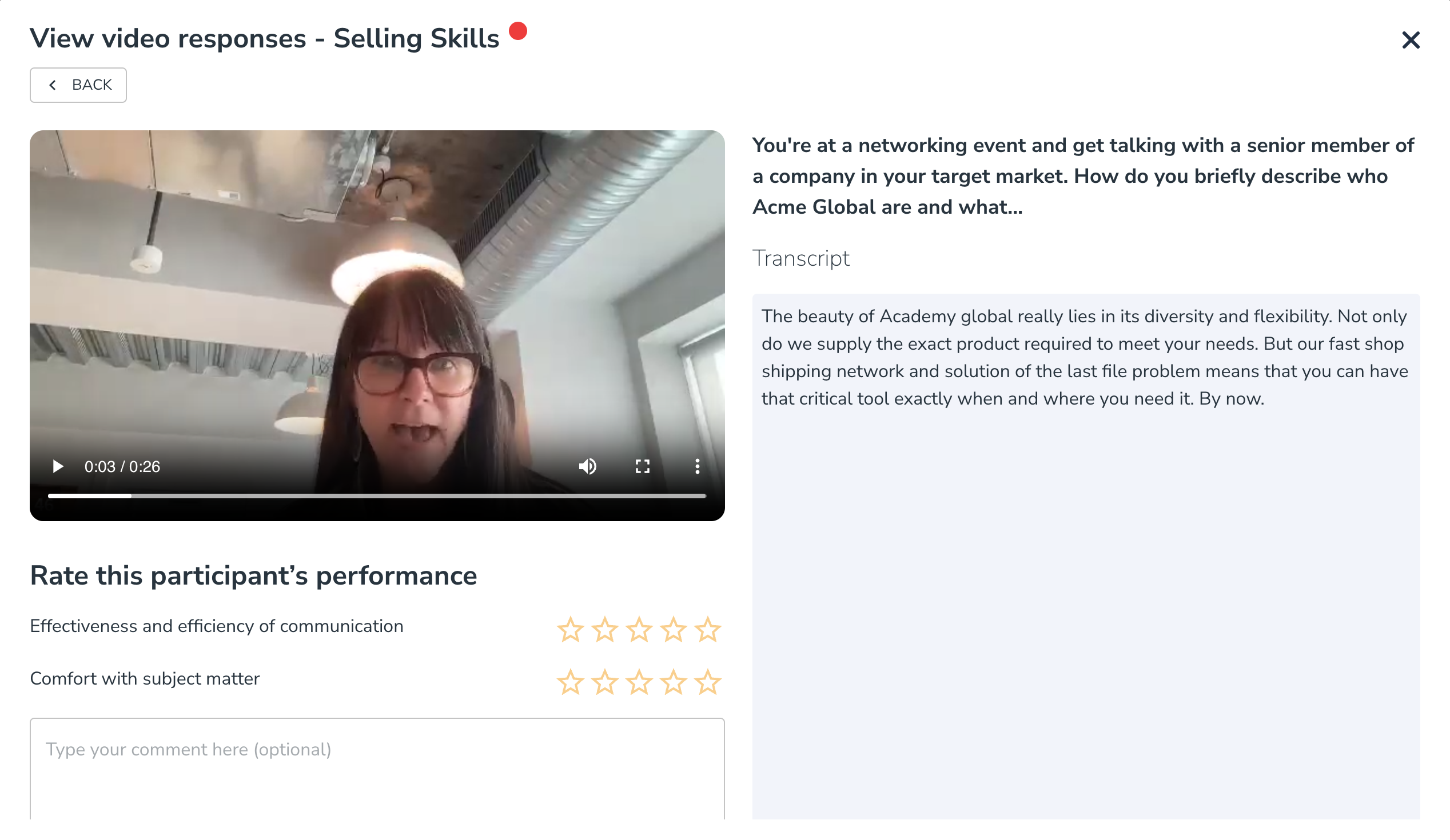 NOTE: Managers can download participant videos individually by right clicking on a video ("Save Video As…"):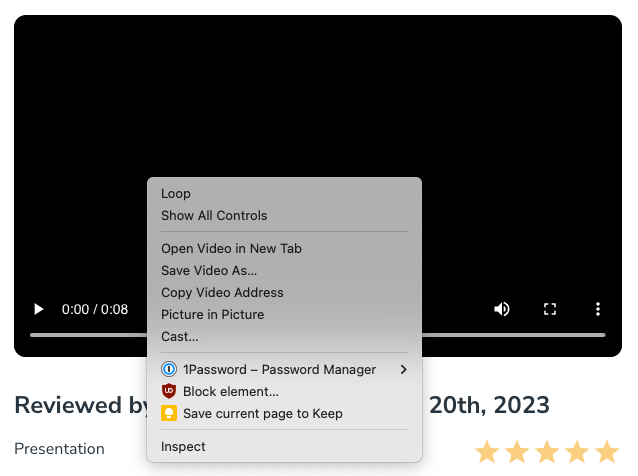 Managers can also see when they have videos pending review from their FLM Summary page, but this menu only appears on Qstreams that have at least one video response submitted.

Managers can also see a list within each Qstream of all videos submitted, including an average rating and an indication status.
Managers can filter and/or sort this list by participant name and Status (Processing, Awaiting Review, Reviewed); in this way managers can easily view just those videos that they still need to review.
Author Experience
In order to create a video question, an author should create a question as normal, and select the "Video Response" question type in the dropdown on the top right of the screen: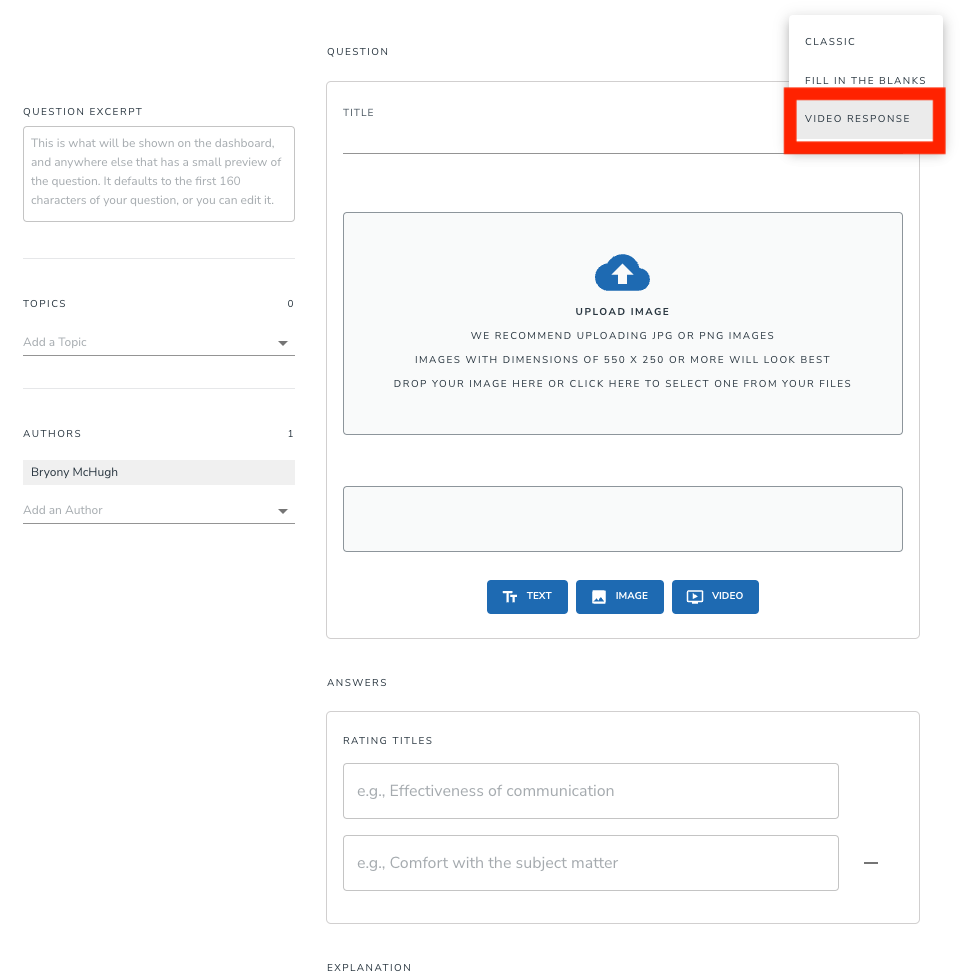 Instead of answer choices, an author defines Rating Titles. These are specific and custom for each Video Response question to allow flexibility for customers:
These are free text with a character limit of 100 characters.
At least 1 Rating Title must be defined. A maximum of 2 ratings can be defined.
Question stem can contain any information applicable in any other question type (text, embedded video, image, etc.)
As with other question types, the Author can include an explanation, but this is not a mandatory field.